Back to search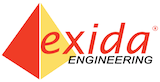 Contacts
Piazza Manifattura 1, Ed. Essiccazione, Rovereto
Products/Services
Highly specialized consulting services in the field of modeling and simulation in the automotive industry
Exida Engineering
The automotive industry is facing a challenge against time to respond to the increasingly pressing demand for cars equipped with high-tech autonomous devices to support driving and engines with reduced environmental impact. Heavy investments in innovation and technology have always created new opportunities and the birth of Exida Engineering takes place in this context.
For years the Exida group in the world and Exida Development in Italy have been involved in OEM and Tier1 projects in the automotive sector and beyond: it provides support in research, development, implementation and verification of the most innovative technological solutions in any sector; their skills allow them to make a significant and extensive contribution to all the phases that lead to the creation of a product in compliance with the quality, reliability and safety criteria set by the standards.
Exida Engineering, the latest company incorporated under this brand, is dedicated to supporting the introduction and development of state-of-the-art methodologies in the research and development sector, based on modeling and simulation. In this sense, exida Engineering can be defined as a spearhead in the panorama of high added value consulting services in the world of high technology.