The hub that gathers together University, vocational institutes and high schools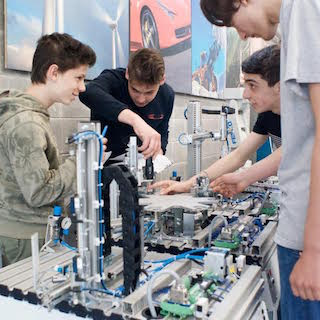 The cohabitation among Marconi T.T.I., Veronesi V.I. and University of Trento within Polo Meccatronica promotes the integration among vocational training, technical education and academic research. The hub is strongly marked by the cooperation of these three actors regarding to the services, research and training activities it offers. 
The cooperation among schools, universities and enterprises: AN OPPORTUNITY WITHIN THE REGION
The complex  training soul of Polo Meccatronica generates concrete benefits to the educational system of the region and enhances its relations with the business world. 
On the one hand, standing close and sharing services and common spaces strengthens the cooperation between these schools, which have been offering for many years similar postgraduate paths. On the other, it supports their integration within the enterprises operating in the region, increasing their students'opportunities to apply for internships and apprenticeships.
The cooperation with the University of Trento also promote the dissemination of best practices all over the region.