Back to search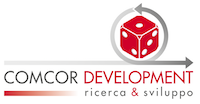 Contacts
Corpo L, via Fortunato Zeni 8, Rovereto
Products/Services
3D mechanical design, consultng on modelling, structural analysis
Comcor Development
Comcor Development ltd. is a 3D mechanical design studio that works most in the following sectors: Automotive, Agriculture, Automation Industries, Car Makers, Light Vehicles, Trucks, Offshore, Suppliers, Motorcycles. 
The professional team, using 3D graphic systems, performs studies, analysis, computing, and graphical development by documenting its advancement to the full engineering of the project.
Categories of services offered:
Automotive: development of assembly projects complete with mechanical groups, transmissions, differentials, clamping systems, high performance internal combustion engines.

Development and production of machines or their parts and components for industrial automation.

Overall studies. Reliefs, reverse engineering, structural calculations and analyzes, feasibility studies, machine or component design, industrial design, design modifications of existing designs, solid 3D modeling, rapid prototyping, rendering and technical consulting.

Upgrading of technical documentation and in particular: regulatory studies, updating drawings, transposition of drawings, technical consultancy.