Back to search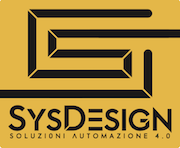 Contacts
Via Fortunato Zeni 8, Rovereto, Corpo P
SysDesign srl
SysDesign deals with flexible automation based mainly on collaborative robotics of which they are the Italian distributors of important international brands that also provide other integrators and distributors both at the product and subsystem level ready to be integrated.
They develop, implement and install automation systems capable of handling the new production needs of customers through innovative products such as Cobots, artificial vision, flexible gripping tools and modular platforms implemented in equally innovative solutions for handling, machine tending, assembly, warehouse automation, process and much more not only in the industrial sector but also in the pharmaceutical, retail and logistics sectors.
Our customers are both small companies looking for agile and flexible automation as well as medium and large companies with the need for innovative plants with fast ROI to which solutions are provided compliant with the highest industry 4.0 standards.
The solutions delivered are tailor-made for the customer and completely made by SysDesign in Rovereto, thus guaranteeing a single contractor and quick after-sales interventions.